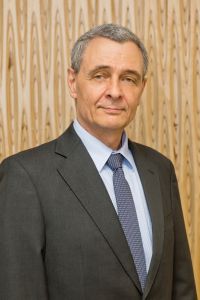 Urs Brunner
Technical Director
Urs Brunner is co-founder of Hydro Operation International Ltd. and its Technical Director.
Urs is a mechanical engineer with a strong background in delivering complex projects in a global environment and in-depth expertise in design, construction, erection, start-up, tests and commissioning, as well as operation and maintenance of new and rehabilitated plants and facilities.
Urs is passionate about working with water and energy which are at the heart of our trade and know-how but also essential ingredients to the sustainable development of life, people, communities, and countries.
Prior to joining HOI, Urs held several leadership positions in project management and consulting engineering with companies in Switzerland, Germany and the USA. His geographical scope of delivering projects extend to Liberia, Rwanda, DR-Congo, Haiti, France, Bosnia Herzegovina, Sao Tomé, Georgia, Macedonia, Laos and USA. He is perfectly fluent in English, French and German.